Latest songs
0:00/3:01

0:00/3:27

0:00/4:16
About
Originally from Athens, I am a London-based guitarist and singer-songwriter with a passion for pretty much any music that tickles my ears. This has led me to experiment with various genres such as Soul, Folk, Afro-Latin, Greek and Jazz. 
I love performing, and do it regularly alone or with my band, formed by a drummer, a bassist and a guitarist. 
My music aims to evoke vibrant emotions by incorporating groovy guitars, soulful vocals, and self-reflective lyrics that touch upon themes of existence, humanity, love and interior struggle.
Les Vulnérables - Debut album (2022)
Porto Frame - Single (2021)
Just U - Single (2020)

Listen and watch all of Laertis' music projects on Youtube now.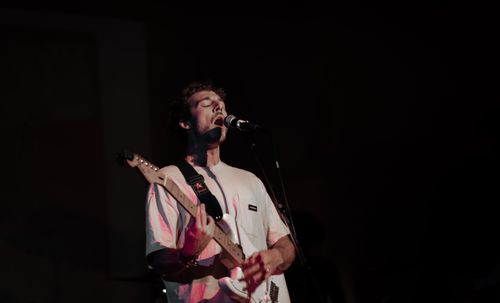 "Glorious vocal melodies that remind me of Hozier when he first started releasing music." - Fred Bambridge
"His surprisingly relatable lyrics makes it even addictive as it connects the listeners with his music more." - Sofia Aleksandra
"The melody's beauty is striking in its simplicity and soothing calmness, as if inviting you to simply slow down and enjoy a quieter moment for a while." - Fernando de Oliveira Lúcio